And that's just some of the praise for Hooray Heroes' NEW BOOK written by me. A baby.

---
OUT NOW
---
My new book – "Diary of Silas" – is out NOW and my parents couldn't be happier. Daddy's so excited for me, he barely sleeps!
---
Maybe you already have some "baby books". My parents do. I have one problem with books like these: they're all written by adults! "Diary of Silas" is my way of saying – and showing! – exactly what the life of a newcomer to the world looks like for a baby and their parents.
---
Check out some of the fun we have!
Beaches be crazy!


Dude, where's my food!?

Get up, stand up.

Ready, set … scavange!
Show me a baby book you can personalize like this, and I'll show you a baby who sleeps all night!
---
The Life and Times of Baby
For this book, I've put together some of the major diary entries of my baby life for you to enjoy. You get to choose 10 to create your book. Each comes with a snapshot of the world – starring the parents – as seen from my perspective. My diapers may leak, but my eyes don't miss a thing! Some entries include:
Screaming in the Car (some driving, too)
Getting Kissed by Strangers (and telling!)
(Crashing) Valentine's Day
Going on Vacation (and beaching about it)
Going Viral (also, being an internet hit!)
Alien Abduction
Finding Treasure (or maybe trash?)
Dreaming (about being asleep)
Throwing Food (sometimes into my mouth!)
Eating Out (at a restaurant)
And many more!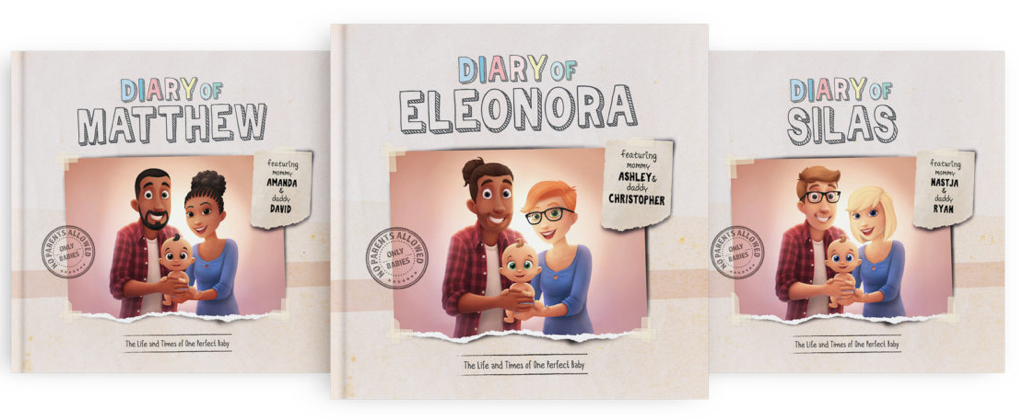 ---
Making Adult Content
Sorry, I meant "making adults content." If there's one thing I've learned, it's that a happy adult is a good adult. That's why I didn't argue with the smart, nice people at Hooray Heroes when they said my book should come with a warning! They say lines like:
"Sweet, white powder that I could sniff out a mile away"
And
Getting "cockpit-blocked" 
And
Saying "that beach better have my Mommy"
could maybe be "misinterpreted" – whatever that means. So there you go, a baby book with a warning. But I say writing a diary is just like snack time – a little forking around never hurt anyone.
---
Baby Got Back Up
I'd be lying if I said I didn't get some help with this. But then again, I've spent more than half my life lying – it's so comfortable! But really, this is no ordinary book written by a baby. You can personalize both the parents and the baby you're giving it to! So, illustrator Jeremy Polonen lent a hand there. Check out just a few of the options you have!
I got help writing it, too, but from two people you've never seen nor heard of because they spend all their free time at home taking care of young kids. Parents can be so demanding!
Silas