This brand-new personalized book is the best gift for Dads to give this Mother's Day. The illustrations treat Mom to the glitz and glamour she deserves, and you and your kiddo narrate its cute, loving stories. Read on for more details about how the book was made and how you can create this amazing gift!
---
Our Books Have Made Millions Cry
Have any of your previous gifts for the Mommy in your life got a reaction like this? Our books do it all the time. With Mother's Day fast approaching, we're proud to give you an exclusive behind-the-scenes peek at how we applied our tear-jerking recipe to this exciting upcoming book.
"You're an amazing Mother" – when's the last time you said this? Don't worry, we've got you covered. The book begins with you recognizing how incredible Mom is and how grateful you are that she's made you a Dad. The style is simple, but heartfelt. Then kiddo interrupts – as kiddos do – and takes over the narration, showing Mom all the ways that she's a hero.
---
Incredibly Detailed Cover
A strong first impression is key to any success, so we have a "go big or go home" approach to creating our covers. Our talented 12-person creative team – including illustrators, graphic designers, animators, and photographers – dedicated over 300 hours to preparing 9 different versions of this cover before arriving at the final one. Further artistry and IT wizardry let you put yourself and your kiddo on it. Add in top-of-the line ink and printing techniques and then, yes, you can please judge this book by its cover.
No detail escapes our artists' eyes!

The creation of the cover
"This cover is something special, because the givers – rather than the receiver – are on it. The DIY nature of our books is what sets them apart, so we wanted Mom to really visualize her kid and partner creating it for her. And don't worry, she gets to shine in the rest of the book!"
-Kate, Creative Director
As for the "rest of the book" – rest assured equal expertise and devotion were invested on every page. We aim for each spread to be a standalone work of art in an overall page-turner of a book.
---
The Book's Relatable Story
Mom's going to want to turn these pages. Each of the 10 stories you choose depicts her in a different genre to drive home all the ways she's a hero to her kiddo.
---
Incredible Customization
Hooray Heroes books are famous for letting you create something 100% unique. This means not only letting you choose your book's content, but also arranging the order it appears in.
"Take 10 of our fans and flip through their books, and you'll see 10 very different stories," says Magde, Head of Marketing. And these stories tend to go viral. A recent TikTok video has garnered nearly 40 million views.
"We love seeing people's individualism reflected in our books. That's what 'personalized' means to us."
-Magde, Head of Marketing

Not only is it fast and easy to personalize characters in our books, it's also pretty fun! If you haven't seen it done before, check it out here:
---
The Book's Content: Moms are Heroes
"A child narrates the book, so we asked ourselves: 'What does Mom look like through a child's eyes?' Our illustrations are the answer to this question," says concept artist, Iva. This book lists the reasons Mom is her child's hero – from being protective to fun to cool to beautiful. Each page has a cute poem written from the child's perspective and showing Mom in an environment to match each display of heroism.
---
DIY Illustrations
Eye color, skin tone, hair style and shade – all created by you in seconds. And not only are Hooray Heroes books unrivalled in their character design, they're also extremely fun to make! This one lets you name and create not only Mom and child – but also yourself! "Extra attention was paid to the cover, yes," says head of personalizations, Kaja. "We know there's nothing better than looking at real people you love, but we want our covers to be a close second." A more detailed personalized book does not exist.
---
Freebies for Mom
We're so proud of what we create and we believe everyone should see themselves in it. That's why for every book we produce, we make a few things available for free! If you're looking for the perfect accessory to compliment this book, you should really check out our personalized Mother of the Year plaque, personalized mobile wallpaper and personalized coupons for Mom – either from you or from kiddo. Click the links to create yours for FREE!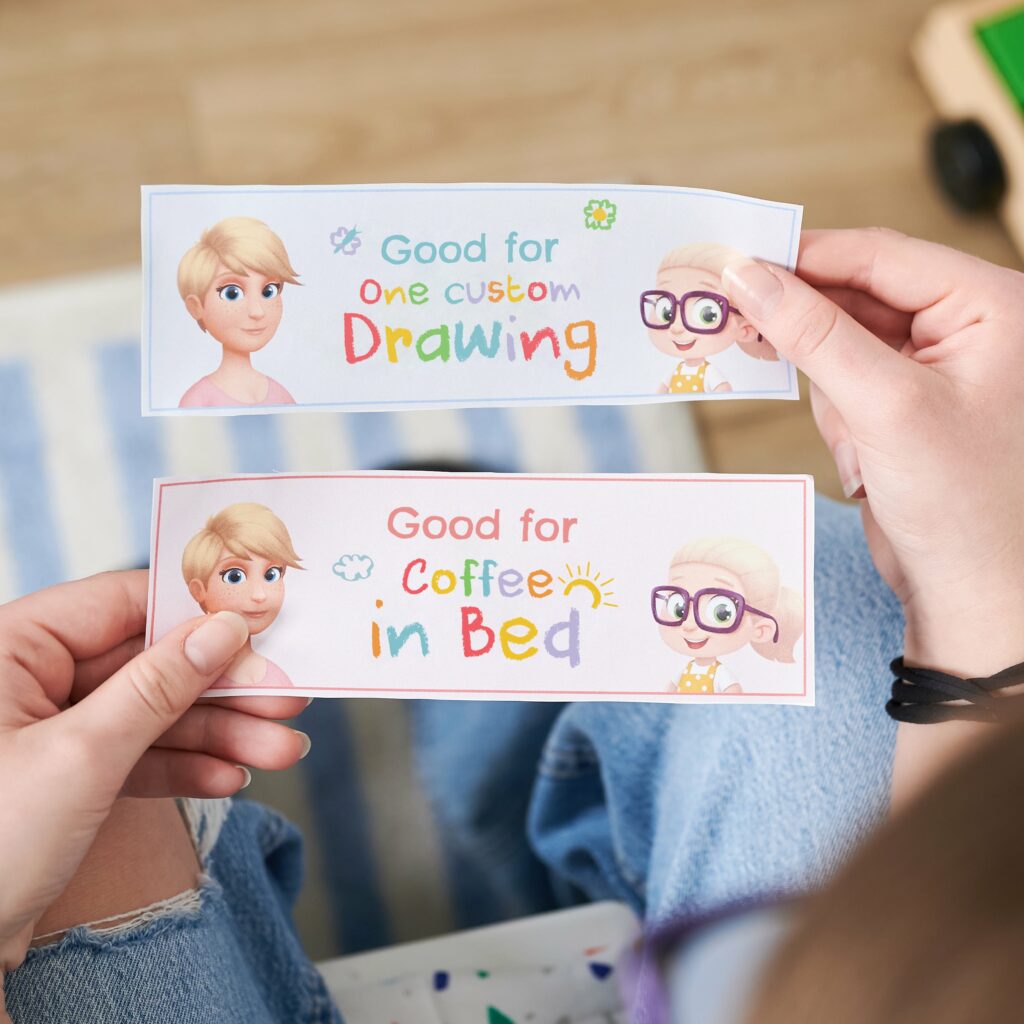 ---
Customer Care = Customized Care
With all the details (quick, what color are Mommy's eyes?!) and names to enter, surely mistakes can happen. But we have you covered 24/7.
"Our markets span 13 time zones, so yes, there's always someone here to help you,"
-Head of Customer Care, Mateja

"Eye color is the most common mistake, but we've seen pretty much everything." Hooray Heroes doesn't settle for less than 100% customer satisfaction, so the creation process of the books has a window factored in for corrections.
---
For more on how our books come together, check out our "How It's Made" video.
---
Quality From Beginning to End
Knowing that this book, like all our books, will be someone's gift one day, we've created it with love. Customers will choose and personalize it with love. And it doesn't stop there: "Using the most state-of-the-art technology, everyone at Marathon Press takes great pride in producing printed products with beautiful, vibrant colors and detail," says quality assurance manager Max at Marathon press, one of our printing partners.
"Each and every Hooray Heroes book is handled with the utmost care and quality-checked for proper color and binding prior to shipping. We know your book is special, so we treat it with the same thoughtfulness and love we would use if we were sending it to our own family."
-Max, assurance manager at Marathon Press
When you choose a Hooray Heroes book, you're choosing a custom-made product. Our reviews and customer photos and videos are testimony to the care that goes into each and every one of them.
---
Thank You, Mom
We finish where we started:moms are heroes and they deserve to know it. That's why this book was conceived, written, illustrated, and will soon be produced with the utmost professionalism and care for moms around the world. We hope the Mom in your life will be among them. For more on our books and the reactions they produce, be sure to follow us across our social media. Maybe we'll even see you there one day!