Hollywood, history, legend, and love are all packed into this personalized book for you and your Mom. Besides being in the book, you also get an additional role: Best Mother's Day Gift-Giver. Read on for more details about how the book was made and how you can make one for the two of you!
Our Books Have Made Millions Cry
---
When's the last time one of your gifts got a reaction like this? With our books, it's basically guaranteed. With Mother's Day fast approaching, we're proud to give you an exclusive behind-the-scenes peek at how we applied our tear-jerking recipe to this exciting upcoming book.
Like all our books, this one tells a familiar story: we're sometimes so caught up in our hectic day-to-day lives, we forget to check in with our moms. "Every mother wants to know that her kid's doing well, so the book opens with you saying as much," explains author Ryan ("Ava, You'll Always Be My Little Girl," "Lisa, 10 Reasons I Love You"). But success can be distracting, and we tend to forget who got us there: "Then immediately you're like 'I should tell you this more! And actually, Mom, I'm doing so well because of you.'"
Incredibly Detailed Cover
---
A strong first impression is key to any success, so we have a "go big or go home" approach to creating our covers. A team of 5 illustrators, 3 graphic designers, 2 animators, 2 photographers, and even 1 hairdresser dedicated over 300 total hours of expertise to making our "I Love You, Mom" cover the knockout it needs to be.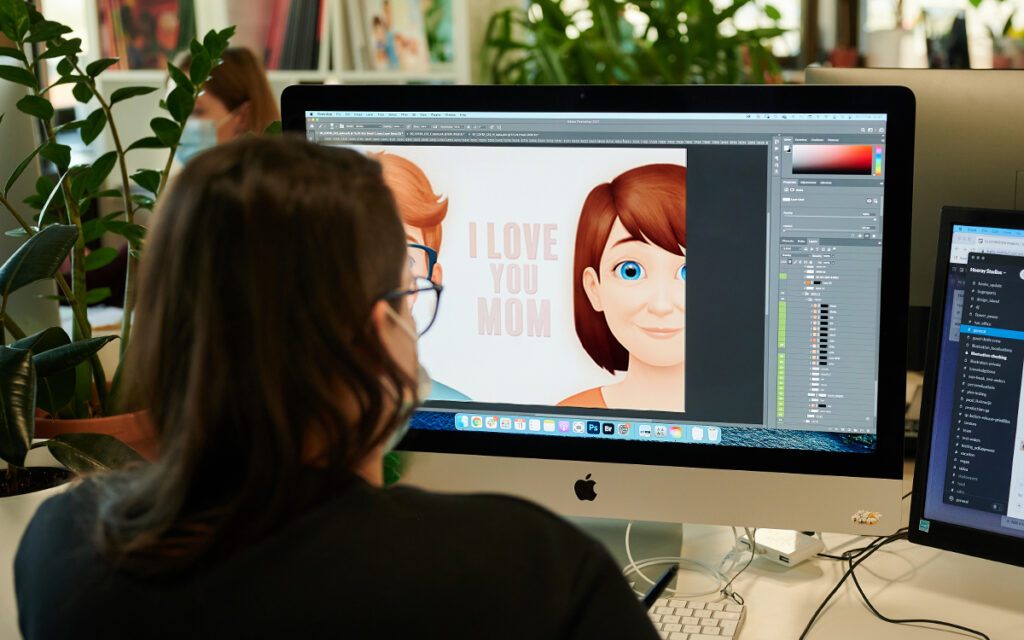 "This cover is hands-down the most detailed illustration we've ever done. The shine in the eyes, the glow of the skin – we even fine-tuned the makeup and added eyelashes one-by-one! Our whole team is thrilled with the result."

illustrator Neža
But don't judge this book by its cover alone! Our team has been giving the same VIP status to each of the 15 illustrations as well. An individual page takes up to 2 weeks of work from sketch to final render, but we've fast-forwarded this in-depth process to give you a better idea of how our books come together.

The Book's Relatable Story
---
In this book, you'll get to surprise your mom by depicting her in 10 vibrant illustrations of your choice. The range of genres covers the whole spectrum of mothers' personalities, including how they guide us, protect us, and make our lives fun.
Incredible Customization
---
Hooray Heroes books are famous for letting you create something 100% unique. This means not only letting you choose your book's content, but also arranging the order it appears in.
"Take 10 of our fans and flip through their books, and you'll see 10 very different stories," says Magde, Head of Marketing. And these stories tend to go viral. A recent TikTok video has garnered nearly 40 million views.
"We love seeing people's individualism reflected in our books. That's what 'personalized' means to us."

Magde, Head of Marketing

Not only is it fast and easy to personalize characters in our books, it's also pretty fun! If you haven't seen it done before, check it out here:
The Book's Content: Moms are Heroes
---
Moms are brave. Next step here: courageously add some color!
"When we think back to being kids, our moms were larger than life – they were everything to us," says concept artist, Iva. "So we had some fun with how our childhood memories embellish how our moms looked." In the book, you praise and thank your mom for being brave and for keeping you safe. She's shown you what real beauty looks like. She made growing up fun, and she did it in her own special way. This is what each story and illustration are dedicated to.
DIY Illustrations
---
Eye color, skin tone, hair style and shade – all created by you in seconds. Hooray Heroes books are unrivalled in their character design, and still, this book pushes that even further. "Yes, you could call it a blast from the past," laughs Kaja, Head of Personalizations. "But we had to. It's a book you're giving your mom now, but it's about growing up. So you create how you both look now and from when you were a kid." For added inspiration, the team brought in old photos of themselves as kids with their mothers. "The photos for sure helped. It was also super funny seeing each other as little kids!"
---
Nostalgia For The Win
This means that in addition to the emotional intro and imaginative illustrations, "I Love You, Mom" treats you to a trip down memory lane. For the first time ever, you'll get to personalize yourself and your mother as you look today and how you looked while you were growing up. This is all to drive home the message that not only is your mother the best mom now, but that she has been the best mom for as long as you can remember.
---
Freebies for Mom
We're so proud of what we create and we believe everyone should see themselves in it. That's why for every book we produce, we make a few things available for free! If you're looking for the perfect accessory to compliment this book, you should really check out our personalized Mother of the Year plaque, personalized mobile wallpaper and personalized coupons for Mom – either from you or from kiddo. Click the links to create yours for free!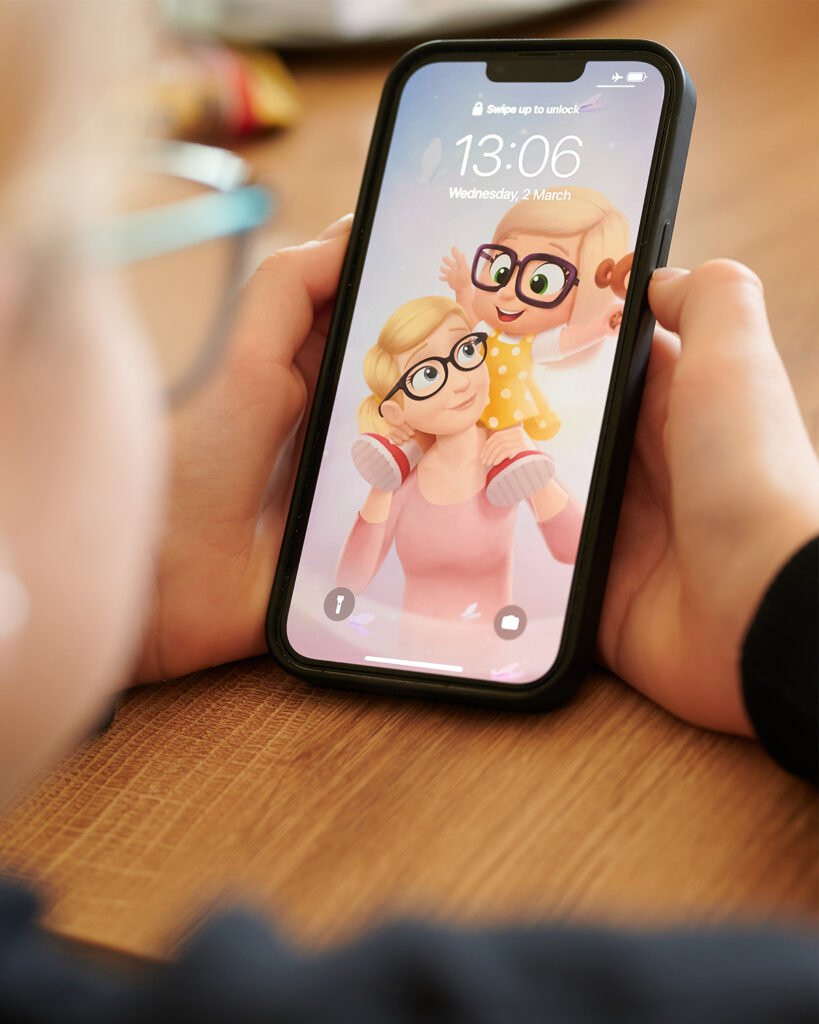 ---
Quiz: Which Hero Is Your Mom?
---
Customer Care = Customized Care
With all the details (quick, what color are your mom's eyes?!) and names to enter, surely mistakes can happen. But we have you covered 24/7.
"Our markets span 13 time zones, so yes, there's always someone here to help you,"

Head of Customer Care, Mateja

"Eye color is the most common mistake, but we've seen pretty much everything." Hooray Heroes doesn't settle for less than 100% customer satisfaction, so the creation process of the books has a window factored in for corrections.

---
For more on how our books come together, check out our "How It's Made" video.


Quality From Beginning to End
Knowing that this book, like all our books, will be someone's gift one day, we've created it with love. Customers will choose and personalize it with love. And it doesn't stop there: "Using the most state-of-the-art technology, everyone at Marathon Press takes great pride in producing printed products with beautiful, vibrant colors and detail," says quality assurance manager Max at Marathon press, one of our printing partners.
"Each and every Hooray Heroes book is handled with the utmost care and quality-checked for proper color and binding prior to shipping. We know your book is special, so we treat it with the same thoughtfulness and love we would use if we were sending it to our own family."

Max, assurance manager at Marathon Press
When you choose a Hooray Heroes book, you're choosing a custom-made product. Our reviews and customer photos and videos are testimony to the care that goes into each and every one of them.
Thank You, Mom
We finish where we started: our moms are our heroes and they deserve to know it. That's why this book was conceived, written, illustrated, and will soon be produced with the utmost professionalism and care for moms around the world. We hope yours will be among them. For more on our books and the reactions they produce, be sure to follow us across our social media. Maybe we'll even see you there one day!