We love to give things away, and our freebies are cuter than cute, adorable to boot, and perfect for so many different scenarios and times of the year! That's why we've released NINE different personalized coloring books and printables. And even better, they're FREE!
---
All seasons coloring book!
Create a magical surprise for your little hero or heroine. A personalized coloring book in which they embark on different adventures that life throws at them! Each illustration also carries a special message. Create a personalized coloring book today and let the adventures begin!
---
How to draw like a real hero!
We love the fact that kids and adults love our books, so we thought it would be nice to not just help them fall in love with reading, but also fall in love with drawing as well! The fun and amazing artworks here are featured in several of our editions, and while they might look complicated at first, after watching these cute and easy tutorials, you and your little ones will have so much fun drawing! And who knows where their imaginations will go after following these simple steps!


---
Coloring book with the sidekicks from our book "Hooray, Jeremy! You did it!"
"Hooray, Jeremy! You did it!" is a fun and loving way to capture and celebrate all of your baby's firsts! Memories fade with time, but thanks to this book, parents will be able to hold on to them forever in one beautiful keepsake! Your kiddo will be accompanied by one of five fun-loving sidekicks. Get to know them in this coloring book! In fact, we've got TWO – one with ALL 5 sidekicks and your little one, and one with just the sidekicks!
---
Personalized siblings' coloring book
Two heroes, double the fun, double the adventures! In this coloring book, your tag team embarks on an unforgettable adventure, just like in the book "The Adventures of Chloe and Logan"! Find coloring inspiration in the book, and then quickly grab some coloring pencils and let the coloring in begin!
---
Personalized coloring calendar for your little hero!

New year, new resolutions, new adventures! Join us on a 365-day long adventure and don't forget about the coloring pencils! We doubt this will last for the whole year, so we have a simple solution – you can download this color-it-in calendar unlimited times! Happy coloring!
---
FREE dad-inspired card

Nowadays, dads are scattered all over the place. This Father's Day, take some time and show them how much you love them with these Dad-inspired cards! If you still haven't got the perfect Father's Day gift, check out our personalized books for daddies!
---
FREE mom-inspired cards!

And let's not forget about MOTHER'S DAY! Moms are simply the best, and while we should celebrate them all year round, let's REALLY celebrate them right now with these amazing mom-inspired printables! They're as cute as can be, and are waaaaaaaaaay better than some card you'd pick up at the supermarket!

---
Free birthday cards
Every birthday is special, but make this one the MOST SPECIALEST BIRTHDAY EVER with these amazing FREE Birthday Cards! Let the celebrations begin!
---
Free new baby printable cards!
The new baby is here! When you want to give a new mom something personal and heartfelt but don't want to use a glue gun, download these super-cute cards, print them from home, and surprise nouveaux mummy with something extra-special!
---
Personalized Love Coupons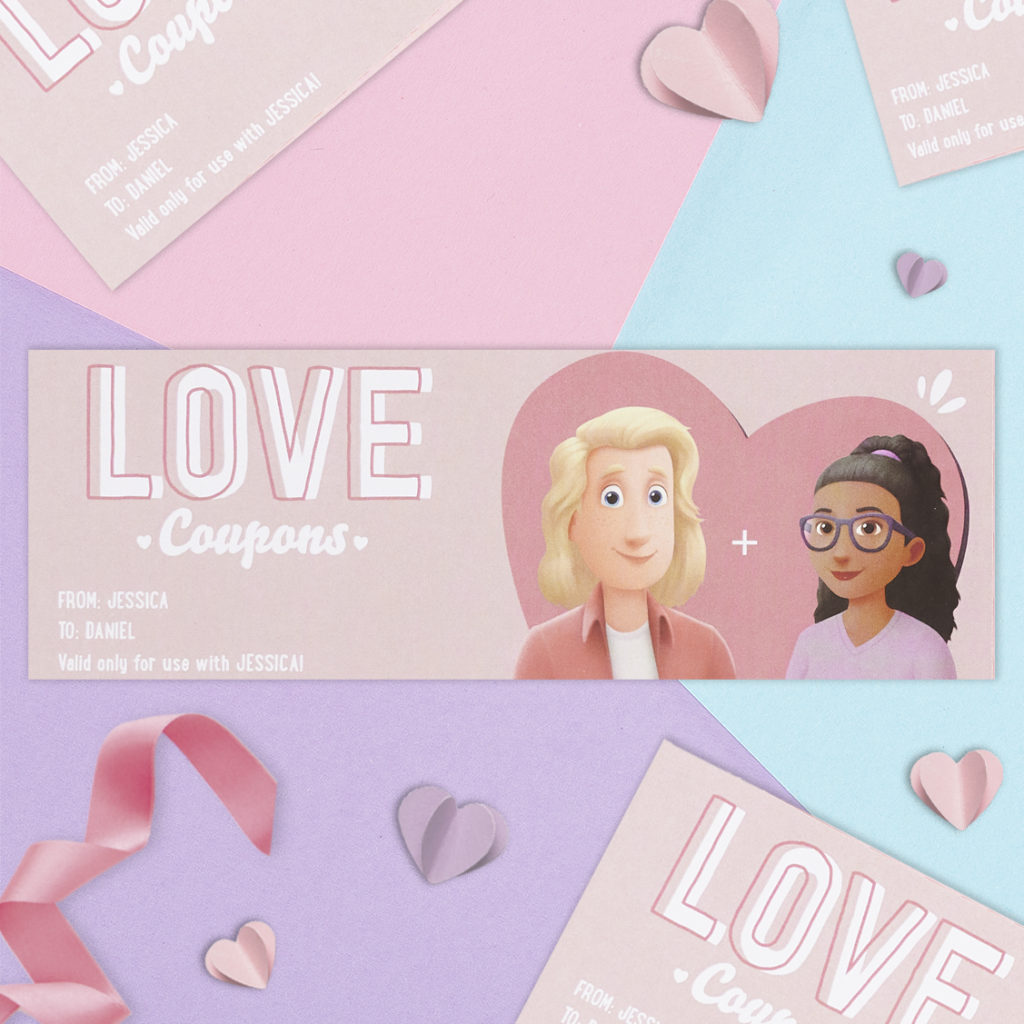 Brand new! Personalized Love Coupons that you can personalize with the image of you & your S/O (and your names on the first coupon), print them, cut them out, and offer them to your main squeeze. They'll make the cutest little additions to our amazing personalized book for adults, "Samantha, 10 Reasons I Love You".
Personalized Back-To-School Printables
With school starting, get organized for the academic year ahead!
Set schedules on a cool calendar with your kiddo's name and character personalized on it, get to know your fellow students with personalized name tags, and learn, learn, learn!
Our coloring books took over the world!
Not just books, but coloring books as well! Last week only, we brought smile to over 2 million kids all around the globe with our FREE personalized books!
---
Get the coloring pencils ready and start coloring in!
With so many options, we're sure you'll find at least one coloring book or printable card that will come in handy, whatever the time of year or special occasion! Download them, print them out, and release your little one's inner Picasso, Pollock, or Matisse!
---
Take a peek inside the world of Hooray Heroes' personalized books
Hooray Heroes offer personalized children's books and coloring books in which the main heroes are none other than your kiddos! The book is designed by you in the ordering process – choose the gender, name, and the overall look of your hero. You can choose the hairstyle and hair color, eye color, and even add freckles of glasses! Personalized to a T!