We love to give things away, and our freebies are cuter than cute, adorable to boot, and perfect for so many different scenarios and times of the year! Not to mention they make a great GIFT!
That's why we've released OVER TWENTY different personalized printables, such as coloring books, plaques, coupons etc., and mobile wallpapers. And even better, they're FREE!
Freebies for Kids
New year, new resolutions, new adventures! Join us on a 365-day long adventure and don't forget about the coloring pencils! We doubt this will last for the whole year, so we have a simple solution – you can download this color-it-in calendar unlimited times! Moreover, they make great stocking stuffers for all the little ones, and they go great alongside our amazing personalized books, not to mention an awesome Christmas gift.
---
Two heroes, double the fun, double the adventures! In this coloring book, your tag team embarks on an unforgettable adventure, just like in the book "The Adventures of Chloe and Logan"! Find coloring inspiration in the book, and then quickly grab some coloring pencils and let the coloring in begin! Make sure to pair it with one of our amazing personalized books for siblings!
---
With school starting, get organized for the academic year ahead!
Set schedules on a cool calendar with your kiddo's name and character personalized on it, get to know your fellow students with personalized name tags, and learn, learn, learn!
---
"Hooray, Jeremy! You did it!" is a fun and loving way to capture and celebrate all of your baby's firsts! Memories fade with time, but thanks to this book, parents will be able to hold on to them forever in one beautiful keepsake! Your kiddo will be accompanied by one of five fun-loving sidekicks. Get to know them in this coloring book! In fact, we've got TWO – one with ALL 5 sidekicks and your little one, and one with just the sidekicks!
---
The new baby is here! When you want to gift the new parents something personal and heartfelt but don't want to use a glue gun, download these super-cute cards, print them from home, and surprise nouveaux mommy and daddy with something extra-special!

Now it's also a perfect opportunity to check out the "Harper's Guide for Mommy and Daddy".
This useful AF (also funny), FIRST EVER personalized guide for parents – told from your baby's perspective – will make you laugh at parenthood's craziness and help you cherish all its sweetness.
---
Create a magical surprise for your little hero or heroine. A free personalized coloring book in which they embark on different adventures that life throws at them! Each illustration also carries a special message. Create a personalized coloring book today and let the adventures begin!
There's no greater bond than the one siblings share. Remind yourself of your children's amazing relationship all day long with this super cute personalized wallpapers for two or three siblings. This wallpaper pairs perfectly with our newest book for kids – Olivia, Emma & Shawn – The Dream Team.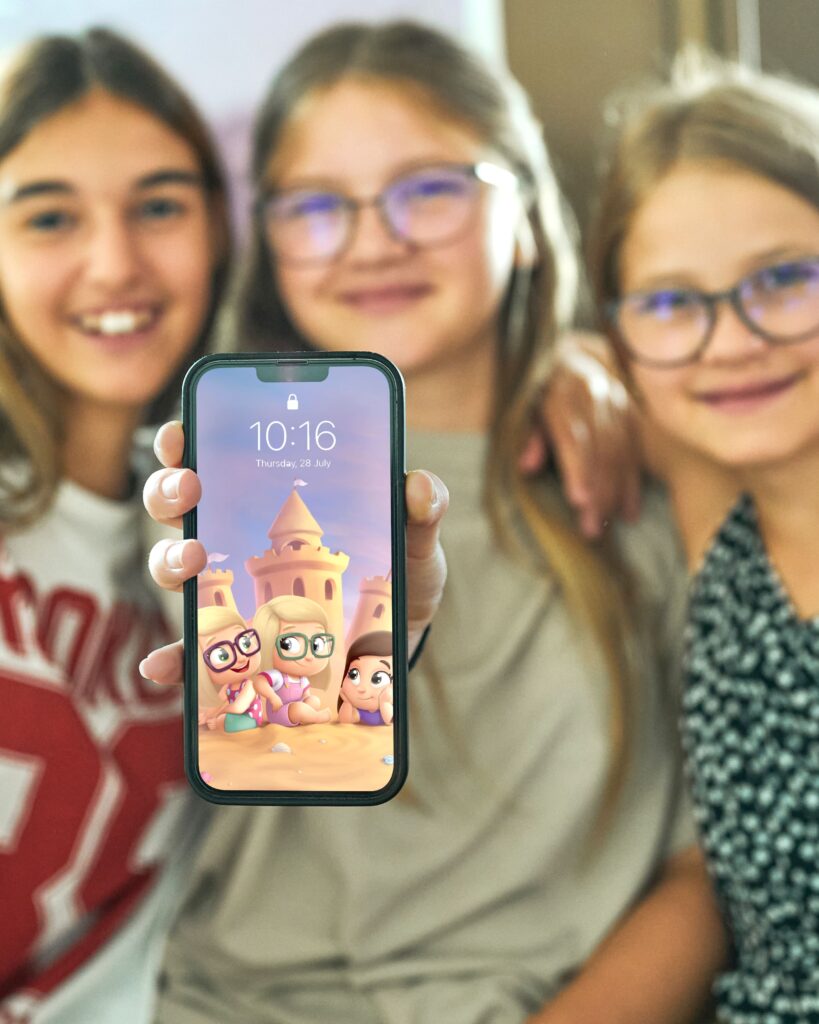 ---
Are your kids superstars who share a special bond, and you want them to be reminded of it every single day? Then check out our amazing, completely FREE poster for 2 or 3 kids that transforms siblings, friends or cousins into the stars of their very own private club!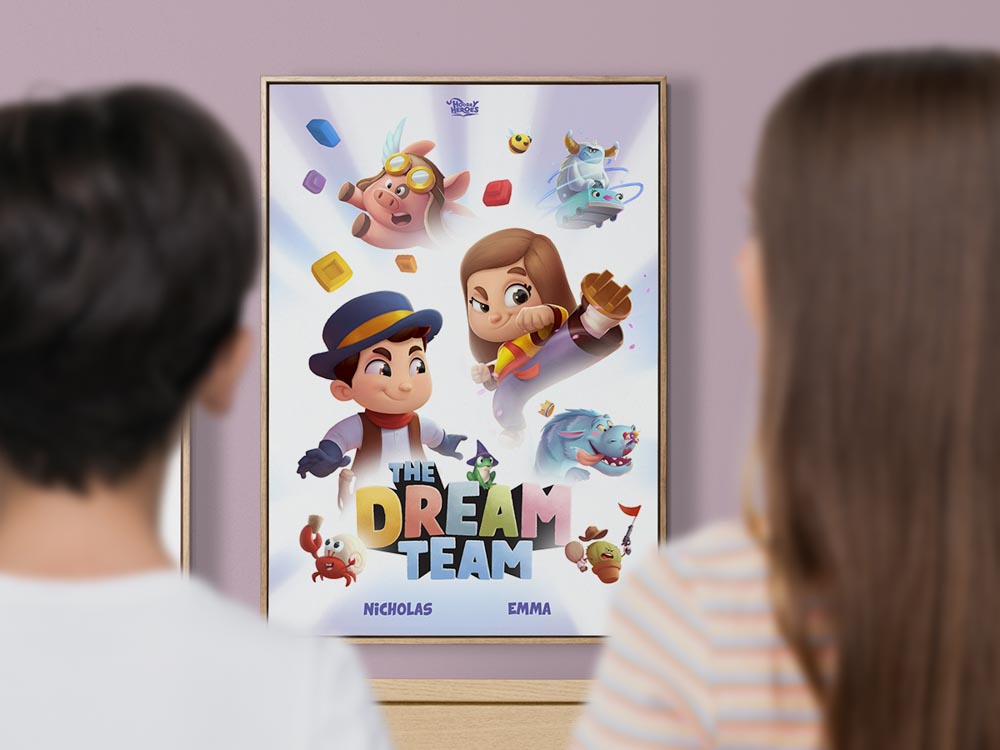 ---
The Hooray! Adventure Jar for 2 or 3 kids is not your average activity jar – it's personalized with the kiddos' names AND looks! And it includes a wide range of activities – short ones, long ones, sporty ones, artsy ones, ones kids can do on their own and ones you can enjoy together as a family. It even allows you to add some of your own!
---
What's better than coloring? Coloring at Christmastime! Personalize and print out this amazingly festive coloring book for your little hero! Give the finished product away as part of a gift, or decorate the house with their own Christmas adventure!
---
Make Christmas even more fun with our Christmas coloring books for siblings! Customize both kids, print them out, and leave them to create their own Xmas magic together!
---
Freebies for Dads
Nowadays, dads are scattered all over the place. For Father's Day or any other occasion, take some time and show them how much you love them by gifting these Dad-inspired cards! If you still haven't got the perfect Father's Day gift, check out our personalized books for daddies!
---
There's not a dad out there who wouldn't love his own "Father of the Year" plaque proudly honoring his efforts this Father's Day. Take a minute to personalize his appearance and we'll email you this certificate of excellence for FREE. Print it out, frame it, and watch him (try to) play it cool! Trust us, under that tough, manly shell, he's bubbling with joy!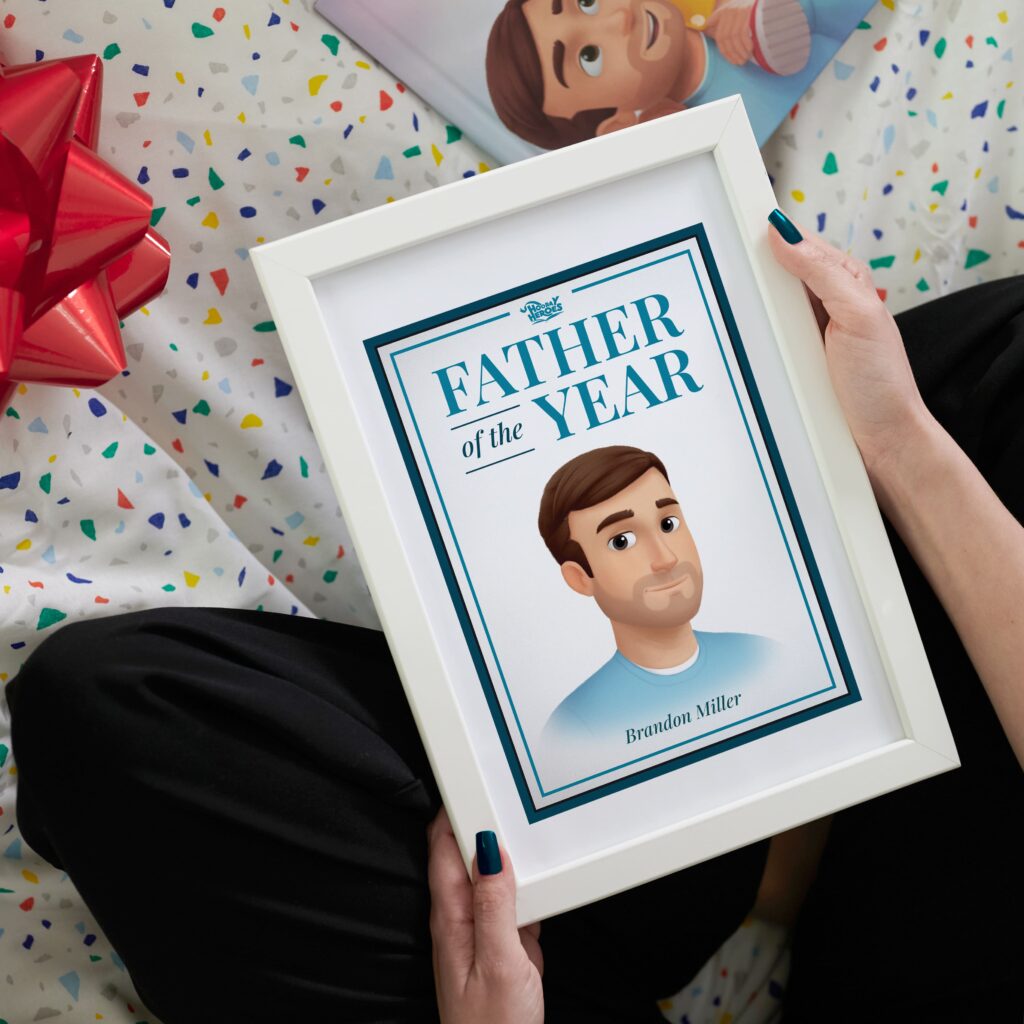 ---
Even if his kiddo's all grown up, or when they do grow up, this FREE personalized mobile wallpaper will keep the memory of their childhood days alive forever.
The inspiration behind our free wallpaper is none other than our bestselling personalized book "Amy You'll Always be my Little Girl". Name a more perfect gift duo.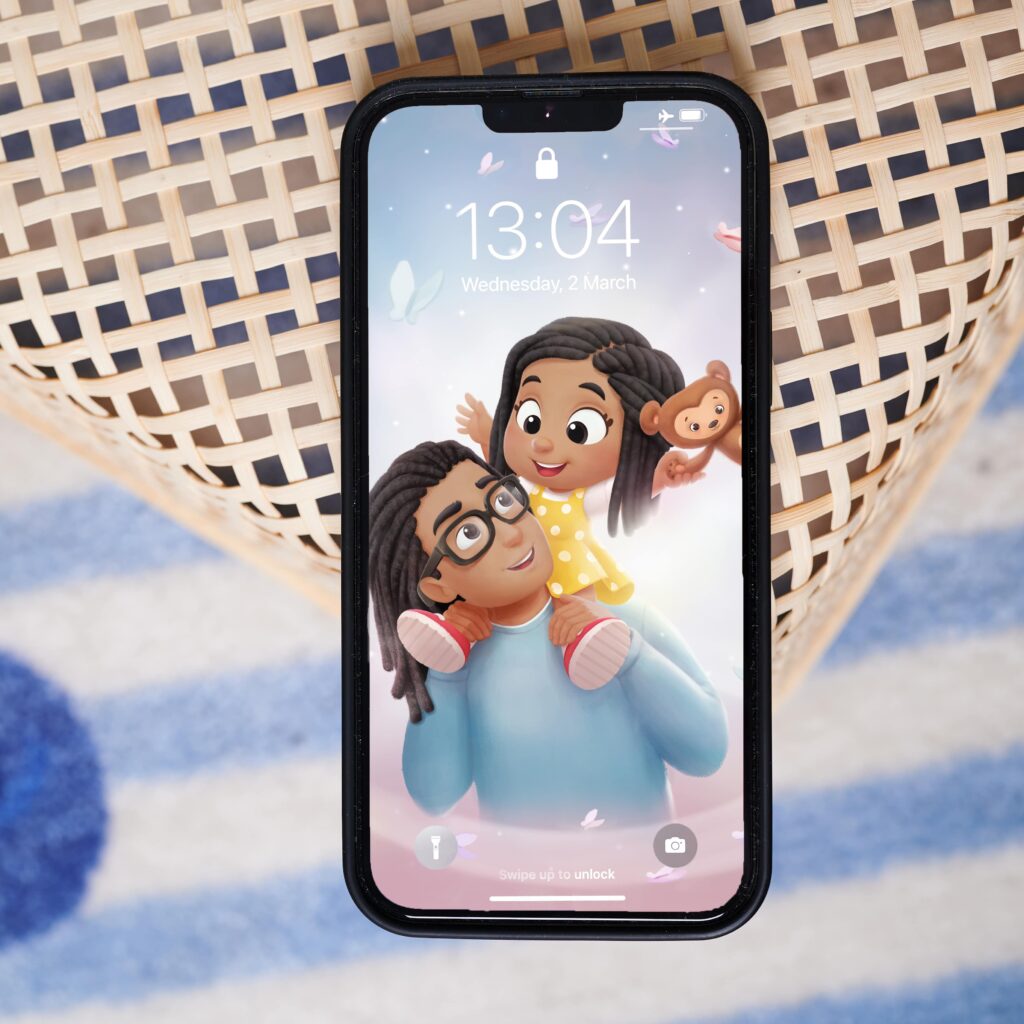 ---
Count down to Daddy's special day with a page a day from this personalized coloring book for Daddy. Let your kiddo(s) show Daddy how much you all appreciate everything he does for the family in a fun way!
---
Freebies for Moms
And let's not forget about all the moms out there! Moms are simply the best, and while we should celebrate them all year round, let's REALLY celebrate them right now with these amazing mom-inspired printables! They're as cute as can be, and are waaaaaaaaaay better than some card you'd pick up at the supermarket! This gift pairs perfectly with our personalized books for moms!
---
Let the best Mommy you know proudly display the personalized "Mother of the Year" award she truly deserves! So go on, make it for her! Take a minute to personalize her appearance and we'll email it to you. Print it out, frame it, and let her bask in the praise she so thoroughly deserves.
---
In Mommy's eyes, kiddos forever stay her little ones. Unfortunately, that's not how life works. So even if her kiddo's all grown up, or even when they do grow up, this FREE personalized mobile wallpaper will keep the memory of their childhood days alive forever. Together with "Remi You'll Always be My Little Boy", it makes a perfect gift package.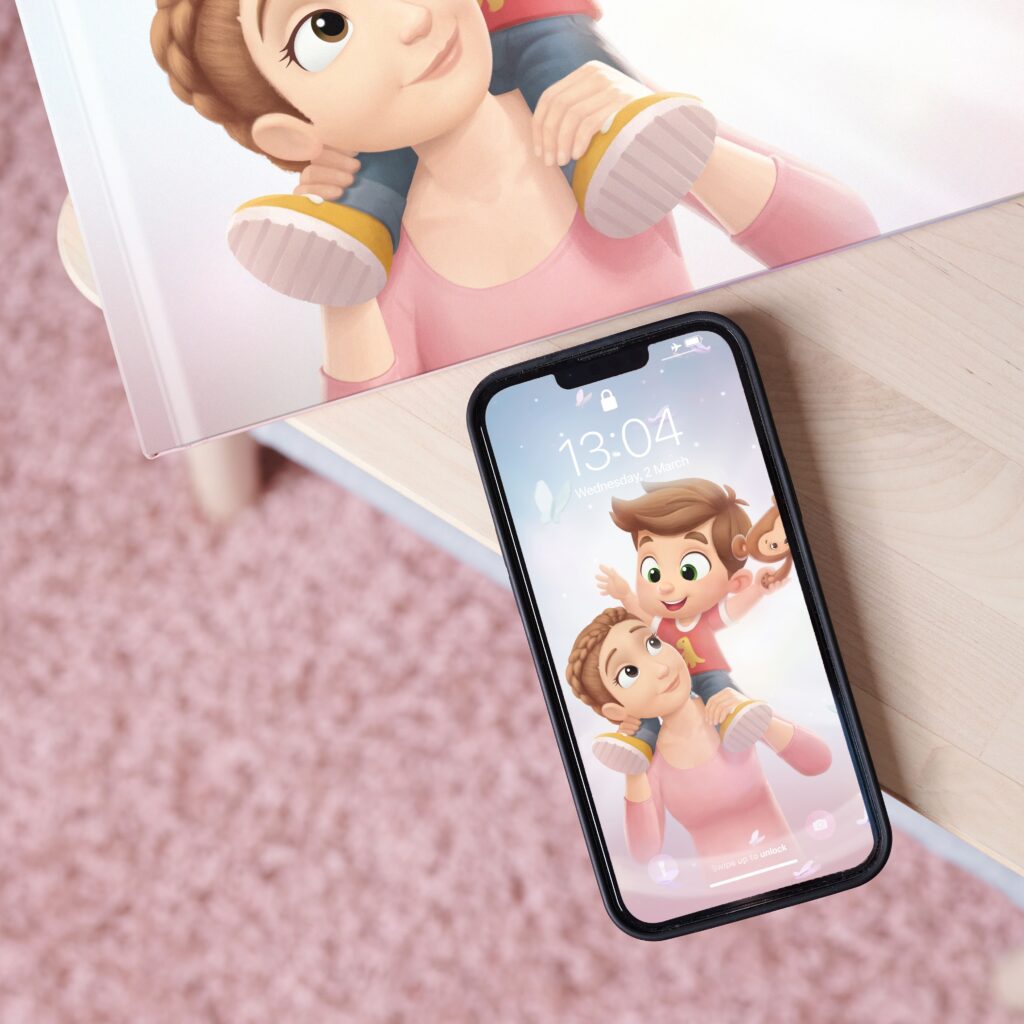 ---
Simply create each of your appearances here and we'll email you these cute, personalized coupons to print out and surprise your mom with. Each of the 11 coupons is a heartfelt way for you to repay your mother – at least a little bit! – for everything she's done for you.
To win the title of this year's best Mother's Day Gift-Giver, don't skip out on our newest best-selling book for moms: "I Love You Mom".
---
Moms and their kids share a special connection. With these FREE personalized coupons from kiddo to her, you'll make sure they get the time they need to bond even further! Cuddles 'n' kisses, coffee in bed, or a custom drawing are gestures Mommy's sure to appreciate. Perfect for Mother's Day! Pairs amazingly well with the "Happy Mommy Day" personalized book.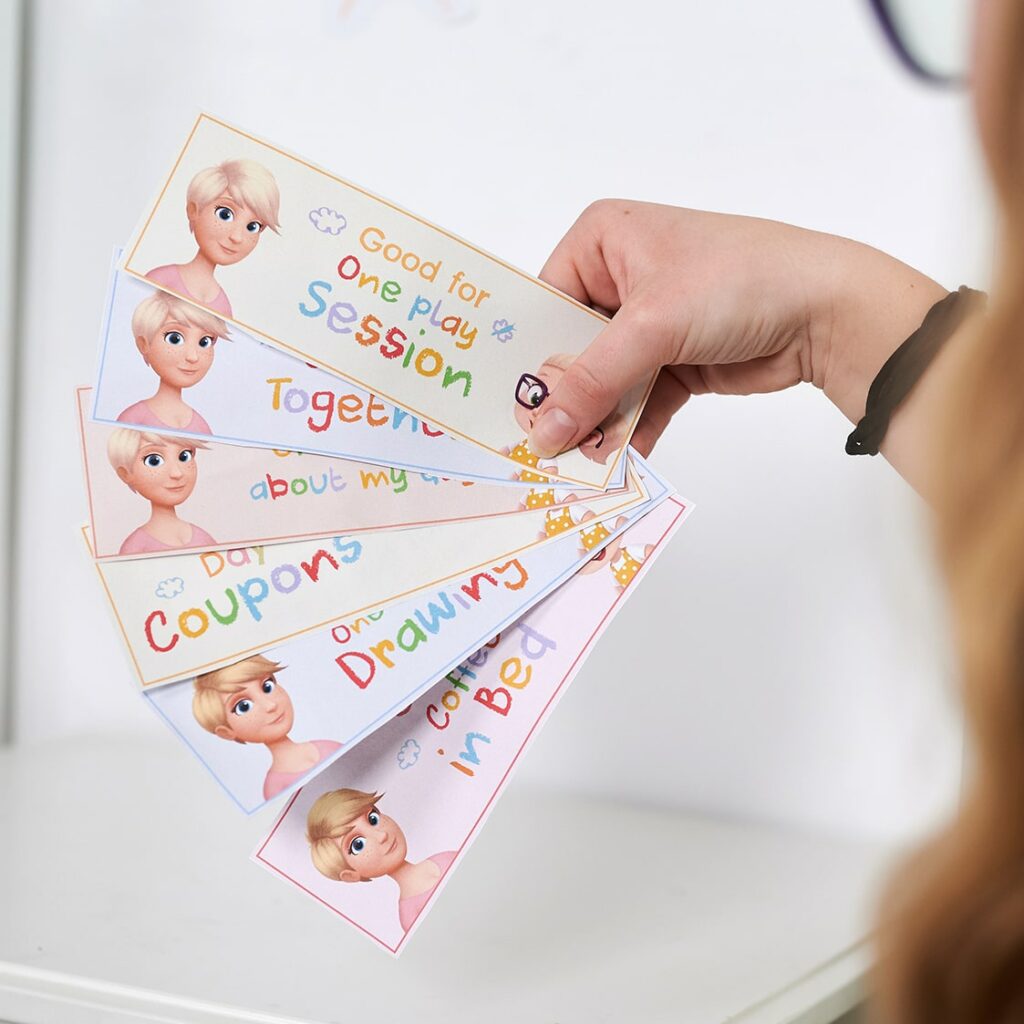 ---
Freebies for Friends or family member
Personalize your teacher, nanny, sister, cousin, grandmother or anyone else and give them this lovely personalized Person of the Year plaque to show them how special they are to you.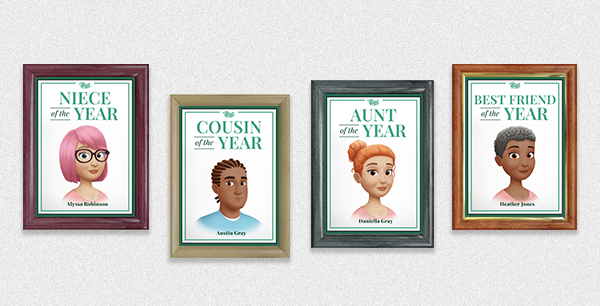 Freebies for Couples
Show your better half how much you appreciate them and everything they do for you with these FREE personalized love coupons. You can personalize the gift with the image of you & your S/O (and your names on the first coupon), print them, cut them out, and offer them to your main squeeze. They'll make the cutest little additions to our amazing personalized book for adults, "Samantha, 10 Reasons I Love You".
---
You know how (almost) everyone in a relationship uses a picture of their better half as their lock screen? But what if you just can't snap a photo you're both happy with? Hooray Heroes to the rescue! Using an illustration from our bestselling book for couples, we've made a 100% personalized wallpaper for your phone! It comes in three variations:
---
Freebies for You and Your Pet
Keep your furry friend close to you no matter what with this FREE personalized mobile wallpaper featuring the two of you!
Don't forget to check out our "Pawesome Adventures" personalized book, in which your pet and you set off on 10 amazingly fun adventures. A purrfect gift for pet owners.
---
Birthday Freebies
Every birthday is special, but make this one the MOST SPECIALEST BIRTHDAY EVER with these amazing FREE Birthday Cards! Let the celebrations begin!
Now that you've secured your free birthday cards, we have a perfect gift to accompany them. You guessed it – a bestselling personalized birthday book. A true birthday fun between two covers sure to inspire smiles for years to come.
---
Personalize the birthday boy or girl in this birthday-themed coloring book. Not only It's free, but it's a perfect way to keep the kids busy.
---
Keep the kiddos occupied with these cut-out birthday party hats they can cut out and color themselves and keep from mixing up cups with our name tags. Use the stickers to decorate the cake!
---
Forget boring template birthday invitations from the store. This birthday invitation is completely unique as it features your kiddo and has the space for you to write your own invite!
---
Personalized Christmas Freebies
Personalize your kiddo and create this adorable and festive Christmas wallpaper for your cell phone. What better way to celebrate the festive season with this adorable personalized wallpaper that will remind you of your lovely kiddo all day long?
---
This year, your kiddo can send Santa a super special, personalized letter! And pssst, they'll receive a letter back from Santa, too! Personalize a letter template for your kiddo to send to Santa, and receive Santa's personalized response as well. Can you imagine your kiddo's excitement? A letter from Santa himself directly from the North Pole!
---
Take a peek inside the world of Hooray Heroes' personalized books
Hooray Heroes offer personalized children's books and coloring books in which the main heroes are none other than your kiddos! The book is designed by you in the ordering process – choose the gender, name, and the overall look of your hero. You can choose the hairstyle and hair color, eye color, and even add freckles of glasses! Personalized to a T!