Families come in all shapes and sizes! 🥰
It's what we had in mind when we decided to design our new family book. We wanted to make a book in which the many different structures of families could be identified. After all, everybody deserves to see themselves in their very own book, as well as personalize their characters down to a T.
---
Meet Carlo and Christian
Carlo and Christian – an Italian couple, parents of two splendid twins, and also the authors of the blog "Dad by choice" and the book that goes by the same name. They use their platform to talk about their experience as parents and wanted to share their story with us.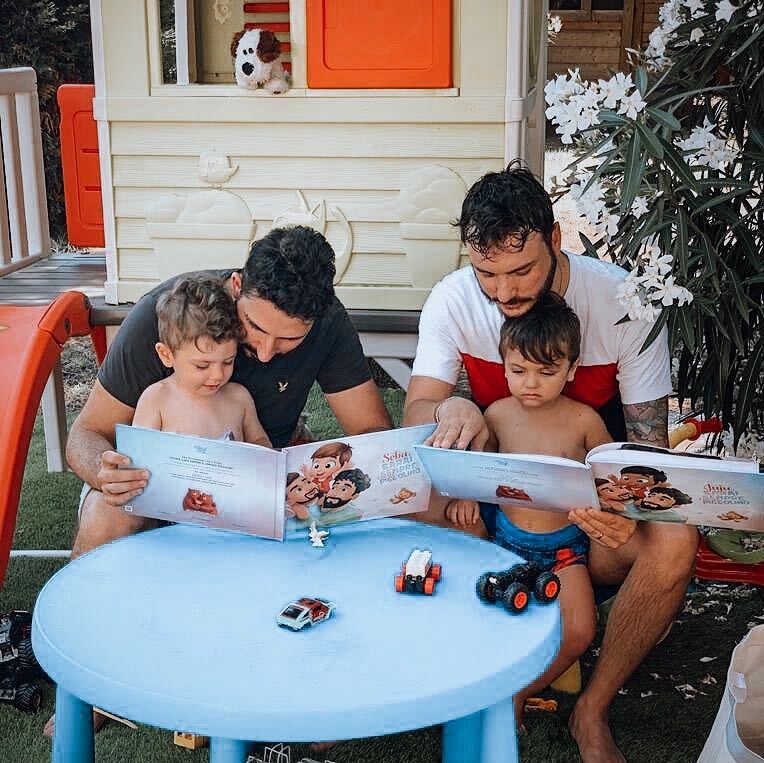 "Christian and I often wondered about the tools that could help us explain our unique and personal family identity to the twins. It is not easy to find cartoons or books where the protagonists are families with a composition different from the one recognized as "traditional". What for many people is normal administration, for us always needs an additional step. In the United States, where same-sex families have long been part of the social structure, we have collected books in which the twins could recognize each other, but in Italy, we have never found anything similar which would facilitate the narration of our own family."
---
…until today
"Hooray Heroes has launched the first book for families where everyone can identify themselves in the stories, personalising both parents. Finally, our daddy2 family can recognise ourselves in the many stories that we can share with our children. Stories that can be personalised according to the predisposition of the twins and that talk about us."
"We have always identified as a family, even if many times it was necessary to defend it, justify it, claim it. With our children, there is no need to legitimize it, because the love we nurture is perceived every day, but it is necessary to help them understand our reality, which is often different from that of one of their friends in kindergarten or their friends in the park, but no less real. And this book will facilitate our task."
"Long live the reading, long live the freedom, long live all the families. Thanks, Hooray Heroes! "
---
A Bond, a Love, a Family
The bond shared by a family is one that lasts forever, and this book is focused entirely on the small moments that make such a bond so strong. The first personalized book is the first that includes BOTH parents – with ALL possible combinations. From cycling to bedtime stories, these memories will never fade, and with the help of this book, you'll be able to hold on to them … forever.
You can find the full article on Papà Per Scelta.