Does Earth revolve around the Sun? Duh…
Over 2,000,000 books sold globally, more than 100 employees, endorsed by celebrities such as the Kardashian sisters, DJ Khaled, David Beckham, and others…
Sounds pretty legit to me. Does it not?
Frankly, we were very surprised when we saw "Is Hooray Heroes legit?" as one of the most searched queries related to us on Google. It's only right we tell our story and dispel any remaining doubts.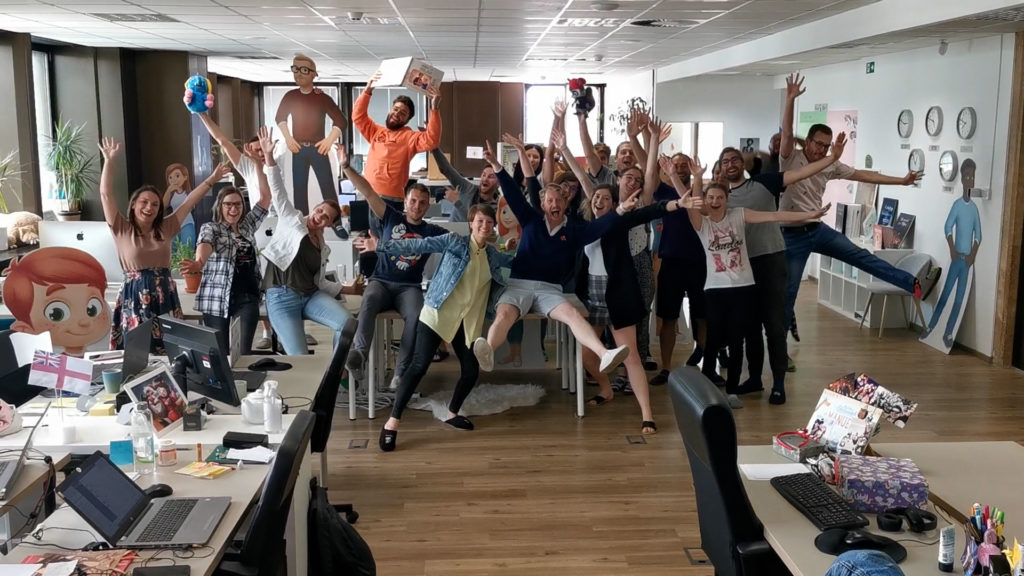 ---
HOW DID IT ALL START?
Ever get bored of your job? That's how our story started… two co-workers with desk jobs got tired of wasting their days away, and it just so happened they also needed to get the perfect birthday gifts for their nieces. And since they couldn't find one, they created their own – a personalized book!
---
HOBBY TURNED BUSINESS
What started out as a garage hobby (literally), quickly caught on with our audience, and things got pretty serious really quick. A team of two grew to a team of 6, then a team of 10… before we even knew it, the number reached 150! That's the number of people working for Hooray Heroes from our headquarters! If you were to count all our external partners, the number of people involved quickly rises to above 500!
It goes without saying that we needed to upgrade our offices as well… we went from a 500 square foot office to occupying two floors which amount to about 10,000 square feet of office space!
---
NAVIGATING THE ROUGH WATERS
The story reads like it was a walk in the park… but no, it wasn't always smooth sailing.
There were times when we were on the brink of giving up, and it even got to a point where our founders were forced to melt some gold their parents had at home to keep the company going. True story.
That was a turning point as it was evident that we were giving it our all to keep going.
The company slowly expanded throughout Europe, but what really catapulted us to success was our expansion to the US and Australia. Personalized books started flying off our digital shelves like fresh croissants on Monday morning.
It took us 6 years to sell the first million copies of our personalized books, while the second million came the next year!
---
WE MUST BE DOING SOMETHING RIGHT…
…and it quickly showed! Celebrities started posting about us and giving us shout-outs through their social media.
First it was Khloe Kardashian, then Kim and Kourtney also joined. We've received messages from Neil Patrick Harris and Janet Jackson, and given our book live, in-concert, to Anderson .Paak who later shared how his whole family loves reading it.
Last but certainly not least, we even made David Beckham, an absolute soccer legend, shed a tear or two over our personalized book!
---
---
TROPHIES, ACCOLADES, ACHIEVEMENTS…
We already mentioned a lot of them above, but there's still plenty left.
We initially offered 5 different personalized books; at this moment, there's over 70 in our catalogue.
From the beginning, we used external software (like Photoshop or InDesign) and manually personalized each book once the order came in. Since then, we've developed our own software to render books, making the process fully automatic and significantly faster!
Check out the whole process of creating your personalized book in the video below – from when you click on the "Order Now" button to when the book is delivered to your doorstep!
---
WHAT'S NEXT?
We don't know exactly, but we're sure only the sky is the limit… scratch that… there are NO LIMITS!
We'll always work on improving ourselves and our products to provide you, our dearest customers, the best possible experience with a personalized book and bring some magic into your world!
Wanna join the ride?