We have quite a few different editions now, so read on to find out which is best for you.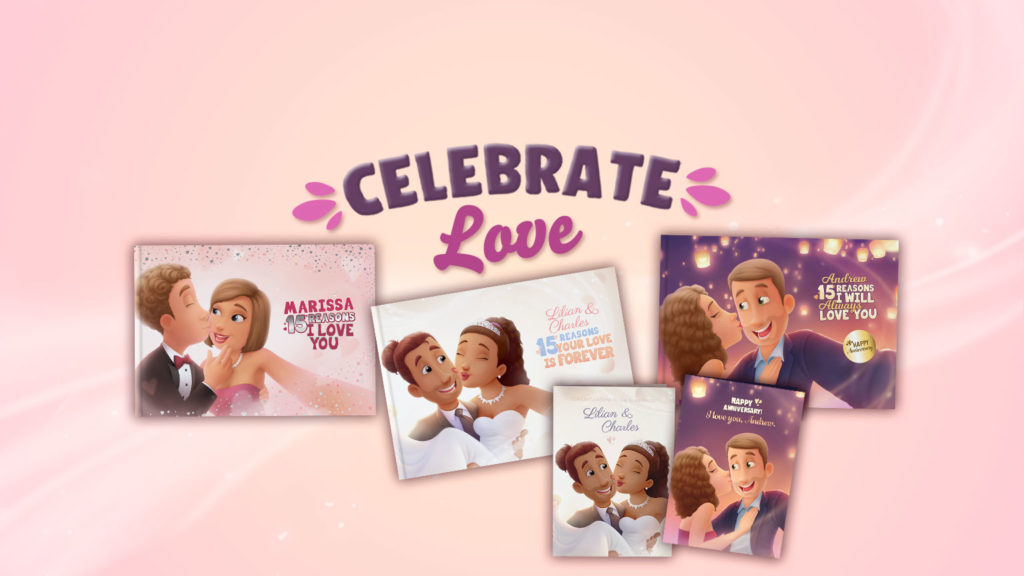 ---
The One That Began It All
Last year, we ventured into new territory by releasing our first ever book just for couples. It's called "Daniel, 10 Reasons I Love You". It's available in both hard or soft cover, making it the most affordable of all the editions, and comes with the option of adding all our gift wraps (including our two extra-lovely ones), all our plushies, and/or a personalized puzzle. You can also personalize this edition for same-sex couples.
---
The Limited 15 Reasons Edition
As Valentine's Day drew nearer, we wanted to give customers the option of putting an extra-special cherry on top of their gift. That wish led to our Limited Edition, which comes with a premium hard cover (complete with shiny silver foil and the couple donning evening attire!) and lets you include not 10 but 15 reasons you love your SO. All gift wraps and plushies can be added to this book.
---
The Anniversary Edition
While we hoped this book would make a splash at Valentine's Day (and did it ever!), we always knew there were other occasions on which it would make the perfect gift. For those wishing to commemorate their special day, we created the "15 Reasons I Will Always Love You" Anniversary Edition. It comes with a beautiful, newly designed hard cover, a new intro and outro fit for the occasion, and the option to add not only our lovely gift wraps, but a matching personalized Happy Anniversary card as well!
---
The Proposal Edition
Here's an interesting proposal: popping the question with a personalized book! If that sounds up your alley, then check out our Proposal Edition! But be warned: only buy it if you plan to propose! That's because while it looks just like our Limited 15 Reasons Edition, it has a brand-new extended outro where you're illustrated down on one knee along with the words "Will you marry me?" Our two lovely gift wraps are available to add to your surprise.
---
The Wedding Edition
After seeing so thousands of people gift this book to their partners, we asked ourselves: could it also be given to a couple from a 3rd person? Of course it can! Meet "Lucy & John, 15 Reasons You Love Is Forever" – created specifically as a wedding gift to the happy couple. While the essence of the book is unchanged, it was rewritten to sound like an extended wedding speech from the giver(s) to the newlyweds. It comes with a newly designed hard cover and the option to add our elegant gold foil gift wrap and a matching Congratulations, Newlyweds card.
---
The Christmas Edition
Perfect for anyone who adores Christmas but loves their partner even more! It's got a new cover designed to sparkle (the 15 Reason Special Edition literally sparkles!) in all those selfies by the mistletoe and has a new Intro and Outro that, like all your favorite holiday songs, are a little bit cheesy in a very magical, lovely way.
---
And That's A Wrap … For Now!
Thanks to you, our Reasons for Love book has been an overwhelming success. We're having a blast adding new editions and have no intention of slowing down. So keep your eyes on our social media for upcoming editions as well as whole new books just for couples.
---
Like This Newest Imperfectly Perfect One!
If our Reasons to Love series is about why couples fall in love, "John's Perfect Imperfections, By: Alicia" is about why they stay in love! It's got a brand-new style of characters, cool meme-inspired illustrations, punchy poems, and a few more surprises up its sleeve. It's all about those little quirks partners show each other – and only each other – that outsiders may deem as imperfections. To the couple, however, these things prove how perfect their love is. All in all, it's an "I Love You" gift unlike anything you've seen before!